Watch your little ones become super creative builders with the educational  Magnetic Mania building blocks.
**Update Currently 50% Off 
💫Enhances Creativity 
💫Hours Of Fun 
💫Great for Education
💫Safe & Durable
💫Multi Buy Discounts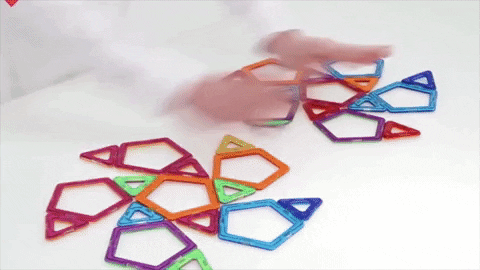 How To Use The Magnetic Blocks
Our amazing blocks use magnets to stick together. This allows you to build endless amounts of structures and designs.And makes it really feel like you are playing with magic!

simply take two different blocks and put them together and the magnets will hold them in place.

These are super safe for kids as they don't have sharp edges and the materials have no nasty chemicals.
Learn & Play
The Magnetic Blocks are unique toys for kids and babies The toys enrich intelligence and imagination. The rainbow colors are very appealing and eye catching which will keep your little ones entertained for hours
Your kids creativity skills will soar while they are having fun.
Endless Possibilities
From magic sphere, rocket, animals to buildings, it's amazing what your little ones will Create.
The combinations and possibilities are literally endless. And if you cant think of anything to build you can always use the instructions and choose one of our pre designed builds.
100% Safe For kids
⭐️The blocks are designed with arch angles to avoid any sharp edges when your little one are playing. 
⭐️ABS odourless plastic is used when creating the blocks so no chemical smell is present. 
⭐️Unlike other smaller building block toys the Magnetic Building blocks do not pose any direct hazard of choking.
Perfect For Kids 6+
Although we recommend the magnetic building blocks for kids ages 6+. They can be used for babies to when supervised with a parent or guardian.
✅No harmful materials
✅No sharp edges 
✅Educational
✅Super Fun 🎉